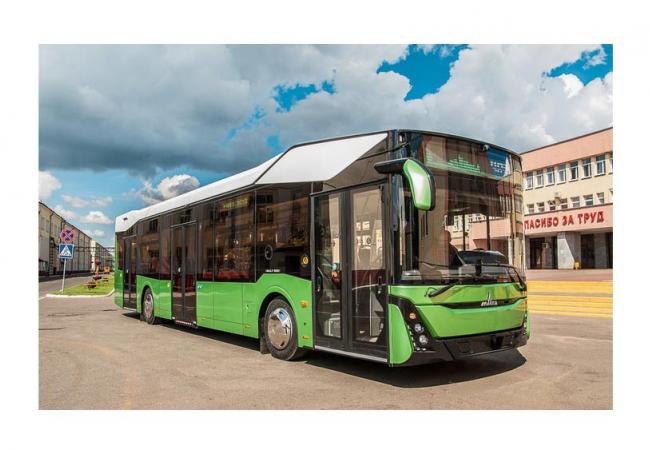 MAZ showed a third-generation city bus with air conditioning and USB charges
The first model of the third generation was the low-floor MAZ-303. In "face forward" it looks like a "long distance bus", and from above you can see a picturesque "hump", in which the silhouette of the bison is easily guessed. From the predecessors, a curved window sill line was retained, preserving the "generational connection". The frame is made of stainless steel. The area of glazing was increased, and the information panel in front became colored.
Below you can find information, which is known about the performance characteristics and the "stuffing" of the new bus:
• Dimensions for the city are optimal: length - 12.43 m, width - 2.55 m, and height - 3.1 m.
• MAZ-303 is equipped with Daimler Euro-6 turbodiesel engine that produces 299 "horses". A 6-speed automatic transmission from the German concern ZF is paired.
• The cabin accommodates up to 110 passengers, depending on the configuration, of which 26 are on the seats. Moreover, the layout of the bus is possible even with 16 seats on the low floor.
• In the cabin, everything was done according to European standards. Inside it became more spacious, and in the front there were one and a half seats - they will be convenient, for example, for mothers with children. The designers carefully thought out the handrails, in addition, on the central platform, you can lean on the wide back.
• The footrest is only 32 cm high, and for people in wheelchairs, a retractable electric platform is installed.
• Among the interesting innovations are USB-ports for charging smartphones and tablets on all rows of seats.
• Five heaters and air conditioner are responsible for comfortable climate, and the latter can work both for cooling and for heating.
• The bus got an independent front suspension with much greater travel and extended wheelbase. The brake system is pneumatic, and when climbing a hill, a driver assistance system is activated.
It is assumed that buses will be offered for cities of Belarus, Russia and other CIS countries. As expected, they will also obtain a "registration" on the routes of European cities. They are ready to sell to the countries of Southeast Asia and other regions.
Official source http://www.tut.by