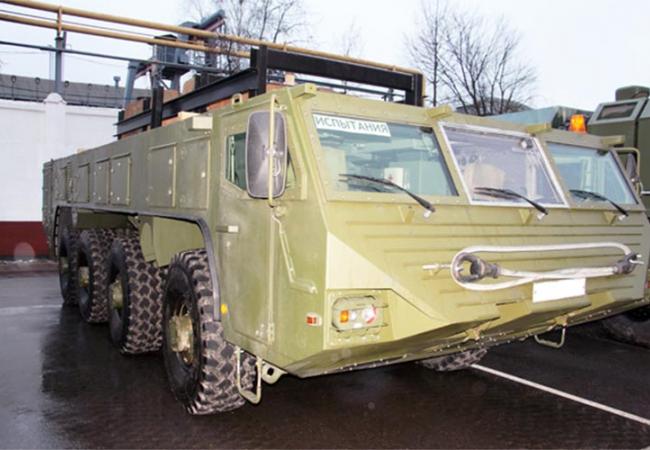 The MZKT-69225 special wheeled chassis in the composition of the upgraded Buk-MB surface-to-air missile system will be presented at the exhibition MILEX-2019 in Minsk
Companies, which are subordinate to the State Authority for Military Industry, are developing and Minsk Wheel Tractor Plant JSC manufactured the MZKT-692250 Example special wheeled chassis, which completed test runs during preliminary trials at the plant's research centre. Then the chassis was handed over to OKB TSP SPLLC, where the relevant equipment was mounted on it. The MZKT-692250 chassis will undergo acceptance tests together with the Buk-MB's systems during the trials of this SAM. The MZKT-692250 continues the family of the well-known mass-produced MZKT-6922 and MZKT-69221 chassis with a 6x6 wheel arrangement. 
In terms of its design, the new MZKT-692250 chassis differs from the previous models through the number of axes, increased cargo capacity and a more powerful engine. The MZKT-692250 is a four-axis all-wheel drive chassis, which has steering wheels in the front two axes. It can operate on different types of roads and terrain at an ambient temperature from –40 to +50 C. The load-carrying capacity, determined by the weight of the installed equipment, is 17,300 kg. At its full weight, the chassis can develop a speed of 60 km/h. The chassis' traction and dynamics are determined by the TMZ-8463 diesel V8 engine, featuring 500 h.p. and a torque of 1,960 N×m, six-speed hydromechanical gearbox, two-speed transfer case, articulated axes with a certain transfer ratio.
For enhanced cross-country ability, the vehicle uses the 16.00R20 tyres with a high-traction tread, its bridges are equipped with a system of inter-axis / inter-wheel controlled slip differentials, clearance is not less than 420 mm, and the angles of approach and departure are not less than 25°. 
Similar to other models of its family, the MZKT-692250 chassis features a tyre pressure control system; in this particular model, the system features electronic management. Independent hydropneumatic suspension provides smooth movement. However, unlike other chassis of the family, the MZKT-692250 uses electronically controlled suspension. The suspension control system allows you to change the clearance: you can set the chassis vertically in travelling, minimum altitude and maximum altitude positions. It also helps you eliminate longitudinal and transverse tilting.  
The new chassis traditionally uses electronic equipment. The vehicular information and control system (VICS), produced by OKB TSP, monitors the chassis' parameters and shows the relevant information on one or two colour displays. If any component of the chassis malfunctions or does not work as expected, the VICS produces a voice message, which informs the driver about the problem. 
The MZKT-69225 special wheeled chassis in the composition of the upgraded Buk-MB surface-to-air missile system will be presented at the 9th International exhibition of arms and military machinery MILEX-2019 in Minsk.

Official source http://vpk.gov.by