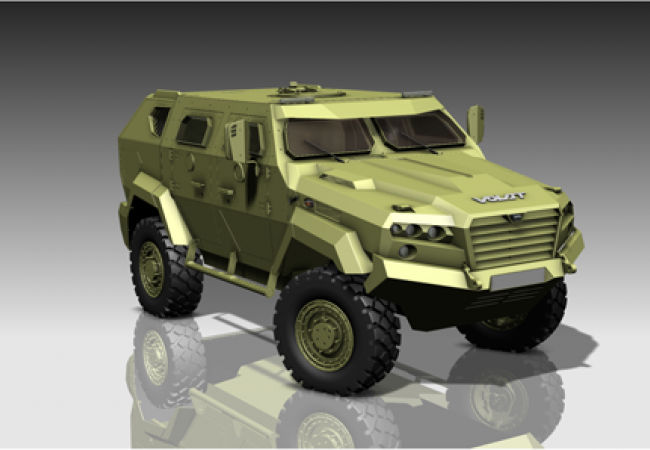 Minsk Wheel Tractor Plant is developing an export version of a light armored vehicle
Currently, work is underway at OJSC "MZKT" to create a new model of military-technical vehicles. The novelty is a lightly armored 5-seater vehicle  MZKT-490101, which is designed to transport and protect the crew from being hit by small arms and the damaging factors of explosive devices.
The MZKT-490101 vehicle is all-wheel drive, with 4x4 wheel arrangement, with steered wheels of the first axle. The carrying capacity is 1800 kg.
The power plant of the vehicle consists of 6-liter Doosan DL06 engine (Korea) with capacity of 270 hp. and 6-speed automatic hydromechanical Allison transmission (USA). The two-speed transfer box of the ADS company (the Czech Republic) is connected into a single power unit with engine and transmission. The use of imported engine, transmission and transfer box, as well as climatic performance from -15 ° C to + 55 ° C indicates that the new vehicle is oriented for export supplies. The MZKT-490101 vehicle has a modular configuration, as well as a new design and concept of body armor.
The body of the vehicle is 4-door, equipped with 5 energy-absorbing seats, a raised floor, as well as an anti-mine pallet, has ballistic protection of level 2, mine protection 2a/2b according to STANAG 4569. The body has heating, ventilation and air conditioning systems, as well as an independent exhaust fan for life support of the crew. The body is equipped with arms for the crew, and the doors are equipped with loopholes. A rotary hatch is installed on the roof of the body, which can be replaced with a fire module.
The engine compartment is equipped with an automatic fire extinguishing system. There is a cargo (luggage) compartment.
Smooth running is ensured by an independent lever spring suspension with shock absorbers, and high cross-country ability - by the presence of a full differential drive with the ability of lock, high ground clearance - not less than 450 mm, as well as the presence of a tire pressure control system and the use of a Runflat device in the wheels. In addition, an electric self-recovery winch with 7.4 tons pulling force is installed.
The vehicle is equipped with an on-board information-controlled system that monitors chassis parameters and displays information on one of two color graphic displays, as well as a circular video review system.
Official source http://vpk.gov.by