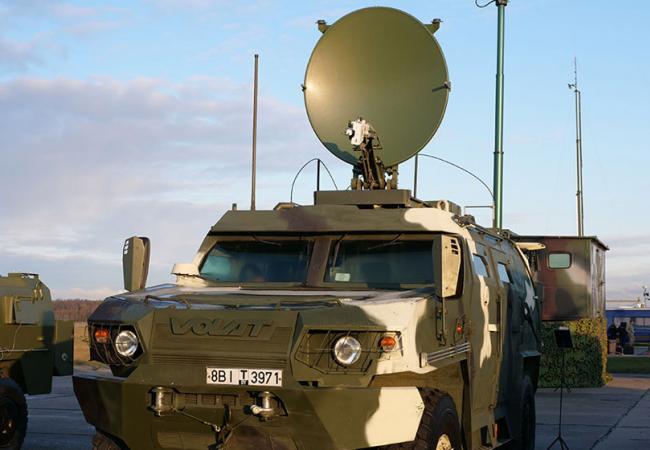 Belarusian Army Adopts the Bogatyr-2 Combined Radio Station R-186
At the beginning of October 2020, by the order of the Defenсe Minister of the Republic of Belarus, the Bogatyr-2 combined radio station R-186, developed by AGAT – Control Systems JSC – Managing Company of Geoinformation Control Systems Holding, was adopted by the Belarusian Army and supplied to the troops.
The product is a ground moving object based on a wheeled armoured chassis MZKT-490100-19, equipped with communications facilities, necessary telecommunications equipment and workplaces for military officials. The vehicle is designed for organisation of open and secure telephone communications channels, data transmission via HF and VHF radio channels, through a mobile network operator and a satellite communications station while conducting various types of combat. Bogatyr-2 can be operated both on the move and in a stationary position, autonomously and while deploying as a part of the signal centre of control post.
The R-186 combined radio station includes a wide range of communications systems and telecommunications facilities: VHF and HF radio stations, modems, switchboards, satellite communications station, equipment for 3G/4G networks, integrated navigation system, etc., which makes it possible to provide reliable and stable communications for Belarusian military units.
The R-186 combined radio station proved its great potential and extensive technical capabilities during the exercises, held from 2018 to 2020, where it provided the senior command staff of the Belarusian Armed Forces with combat control. Bogatyr-2 successfully completed its tasks during the Union Shield 2019 Belarusian-Russian military exercise. The equipment of the combined radio station Bogatyr-2 alongside the domestic communications BELINTERSAT-1 satellite provided stable satellite communications at all stages of the international competition "Confident reception", held within the framework of the International Army Games 2020.
Official source http://vpk.gov.by