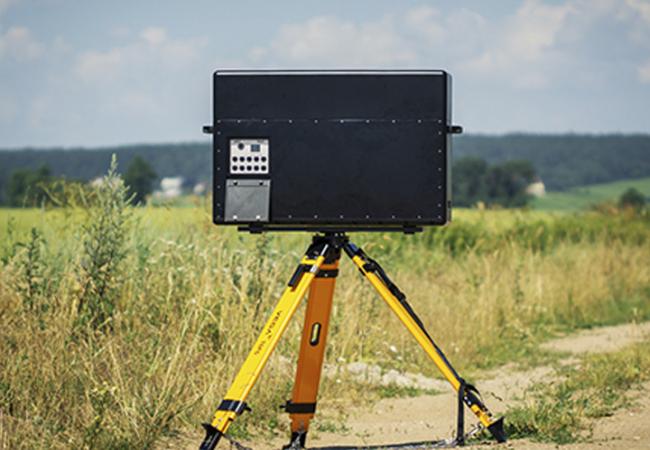 Groza-R4 – a New Word of KB Radar JSC in the Fight Against Drones
KB Radar JSC – Managing Company of Radar Systems Holding has completed the development, manufacture and acceptance tests of the device for blocking radio channels and navigation of multicopters. Groza-R4 (such a name received a product) intended to prevent unauthorised penetration of drones to a protected area.
The advantages of the new development of KB Radar are compactness and usability. The device, weighing about 20 kg, is made in the form of a case with overall dimensions of 103 x 63 x 23 cm installed on a tripod on a rotary-oblique bracket. It can be operated both in a stationary position and on open moving platforms, in various local conditions, as well as in urban.
The advantage of the product is that its use does not require long-term preparation and availability of special skills from the operator. To block the drone control channels, it is enough to rotate Groza-R4 towards the air target and press the button. It is also possible to operate the product in the mode of omnidirectional radiation, in which its rotation is not required towards the multicopter.
In any case, the drone makes an emergency landing or returns to the take-off point. Moreover, in the event of an attempt to return the multicopter to the take-off point, Groza-R4 is capable of blocking navigation channels and forcing the UAV to make an emergency landing or to switch it into an uncontrolled flight followed by a fall.
The range of suppression of control and data transmission channels of drones is up to 1 km, the time of continuous operation for radiation is up to 60 minutes.
The Groza-R4 system was presented during the MILEX-2021 exhibition.
Official source: https://www.vpk.gov.by