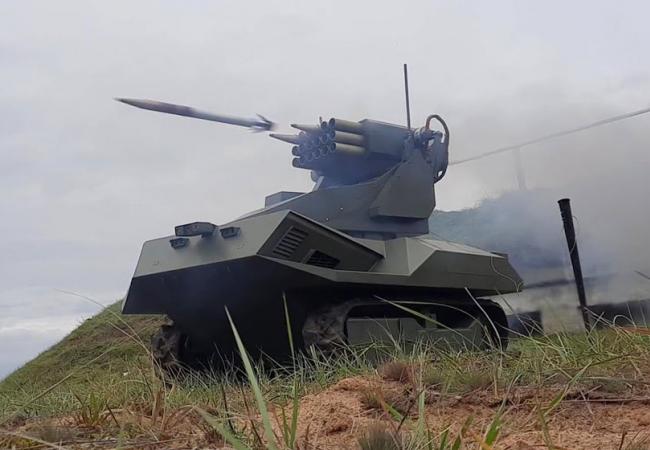 Whistle Robotic System Passes the First Firing Tests
From 14 to 15 October 2020, the first field tests of the Whistle robotic system, developed by the specialists of BSVT – New Technologies LLC, took place at one of the Belarusian military training grounds. It was first demonstrated at the parade in Minsk in honor of the 75th anniversary of the Victory in the Great Patriotic War.
During the tests, the fire control system and other important components of the unmanned vehicle were tested.
To recall: the system was created on an initiative basis and is an unmanned ground-based inconspicuous combat vehicle equipped with a rotating platform with a package of 18 launch tubes for 57 mm S-5 unguided aircraft rockets. The system is designed to conduct effective fire from place at enemy manpower, armoured and unarmoured targets.
Thanks to the Grach optical-electronic station and a data processing system using artificial intelligence, Whistle is able to detect targets at a distance of up to 3,500 metres. In this case, the system independently calculates the elevation angle, direction of fire and many other parameters. High manoeuvrability and all-terrain travel capability of the robotic system ensure the performance of tasks in difficult terrain and weather conditions.
The combat robot is controlled remotely via a secure radio channel with a patented ECM technology.
Official source http://vpk.gov.by