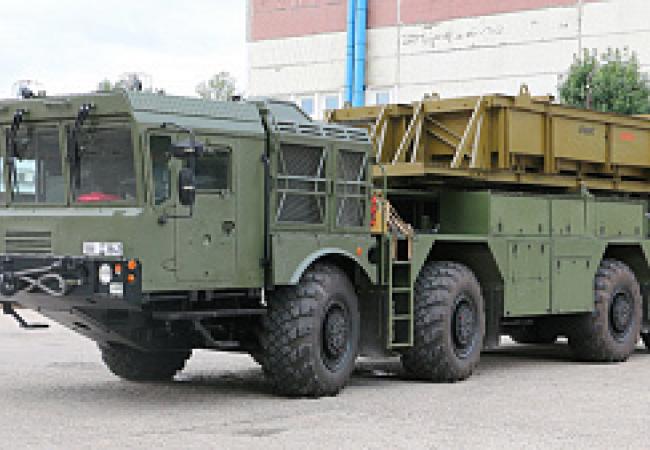 Advanced wheeled chassis MZKT 7930 with hydromechanical transmission for updated MLRS "Polonez-M" qualified state trials
Within the framework of research and development work it was created an experimental model of updated wheeled chassis MZKT 7930 with hydromechanical transmission MZKT-7930-313, which is planned to be used as transport and drive base for combat and transport-loading machine (of items V-300BM and V-300TZM) from the composition of updated multiple launch rocket system (MLRS) "Polonez-M".
Updated chassis MZKT-7830 with hydromechanical transmission qualified all prescribed trials, on the results of which in June 2018 construction documentation was assigned with "O1" character.
The composition of wheeled chassis MZKT-7930-313 includes both standard units and aggregates, which are applied in basic chassis MZKT-7930 with mechanical transmission gear, and units, which were not applied previously in the construction of this chassis.
As a result of conducted improvements of wheeled chassis MZKT-7930 with hydromechanical transmission, used for MLRS "Polonez" of national production, load-bearing capacity is increased, construction is amended for improving of technical characteristics, and also for high comfort and security of combat unit operation.
Comfort conditions in the cabin are supported by climate system: air heating is provided by cabin heater from engine cooling system, and its cooling by conditioning system powered by compressor of engine air conditioner.
Effective operation of the crew under rough winter conditions is supported by independent autonomous air heater. Filter-ventilation system of national production provides effective cleaning and air induction into cabin, and also creating of overflow pressure (overpressure).
Power and cooling systems of engine and hydromechanical transmission are amended. Fuel tanks of elevated capacity are installed that enabled to increase fuel distance. Besides, radiators of hydromechanical transmission and engine are mounted in parallel and construction of the bunkers for improved venting of heated air is altered that cools engine and hydromechanical transmission coolers.
In the transfer gear-box it is elevated the downshift gear ratio that enabled to increase passability and improve tractive and dynamic characteristics at different operation ranges of hydromechanical transmission.
Additional park brake on input shaft of central reductor of the 4th drive axle enabled to increase the effectiveness of parking brake system.
Reinforced frame of high resistance steel and suspension with additional strengthening elements at wishbones are used to increase load bearing capacity of the chassis and to reduce quantity of metal.
The use of tires with elevated bearing capacity, equipped with alarm in case of piercing and system of air pressure control, ensured high passability and safety.
At the customer's inquiry wheeled chassis MZKT-7930-313 can be additionally equipped with on-board information and control system and auxiliary brake system (additional retarder-brake), designated for reducing the speed of the vehicle without the use of main brake system while moving in lengthy mountain descent, and also with autonomous air conditioning.
Official source http://vpk.gov.by